50-car field set for opening round of the European Esports season at Monza
26-car Pro entry boasts the cream of the sim racing world.
24-car Silver class showcases the best up-and-coming virtual racing talent
Total prize fund of €18,500 on offer
A new season of online SRO Esports competition will blast away this evening [Wednesday], with 50 of the world's finest Assetto Corsa Competizione players set to go head-to-head at Monza in the hope of winning the lion's share of an impressive prize pot.
A total of €18,500 is on offer to drivers across both the Pro and Silver categories, with €12,000 available for Pro drivers, and €6,500 for Silver runners. And both classes have proven hugely popular, with the entry split almost 50/50 between the two, helping to make the competition too close to call.
Staged in partnership with AK Esports, the Mobileye GTWC Esports Europe Sprint Series takes place across five events, all held midweek, over a schedule that mirrors the real-world Fanatec GT World Challenge Europe Powered by AWS. Following the opening round at Monza, drivers will then tackle Circuit Paul Ricard in France, the legendary Spa-Francorchamps in Belgium and Germany's Nürburgring before finishing the series at Circuit de Barcelona Catalunya in Spain.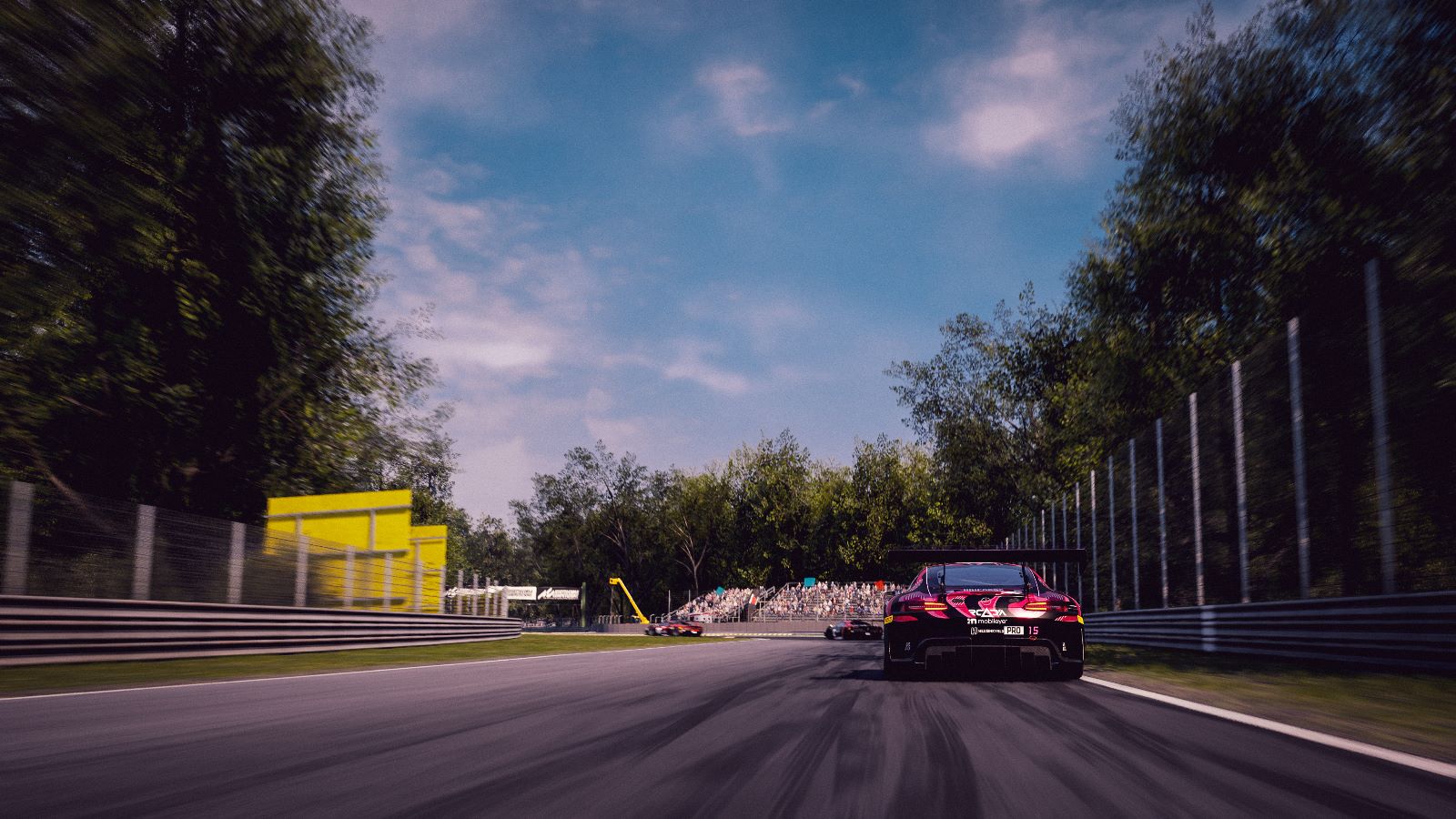 Wide open for a new Pro champion to step up
With two-time champion James Baldwin not set to appear this season, there are a host of names queueing up to make their mark on the championship during the early stages.
Chief of which being last year's runner-up, Dáire McCormack, who this season will compete for Mercedes-AMG Team Williams Esports, having spent last term aboard a Bentley. Another driver shifting marques is David Tonizza, who swaps the Ferrari he raced to third in last year's series for a factory Automobili Lamborghini Squadra Corse Huracan Evo2. Lucas Losio completes the two-car Squadra Corse entry, having himself switched from a Jean Alesi Esports Academy BMW.
Dominik Blajer should be one to watch. Having won last year's Silver class title, he steps up to a full Pro entry for this season as part of the Williams Esports Razer team to drive a Mercedes-AMG. McLaren Veloce returns with a refreshed driver line-up, with Grantas Kareckas and Maciej Malinowski crewing its pair of 720S GT3s, while Mercedes-AMG Team Unicorns of Love will field Michael Tauscher and Bastian Richter.
Add in others like Luke Whitehead (Veloce Porsche), Oscar Tringale (Kessel Glitch Ferrari), Mateusz Tyszkiewicz (ITB Saintéloc Racing Audi) Sebastian Apostol (West Competition BMW), Kamil Pawlowski (ITB Thrustmaster Racing Audi) and Alexander Smolyar (SMP Racing Esports Honda) and you have a Pro grid stacked with talent.

Silver set to shine with a host of fresh entries
Much like in the Pro category, the absence of the reigning champion leaves the path clear for somebody else to shine. And, with last year's runaway victor Blajer now in the Pro ranks, 24 new combatants are ready to take centre stage.
The Silver category is reserved for drivers who either are yet to be nominated by a major manufacturer or haven't yet broken through to the Pro ranks, with most recognised as the best racers from the Assetto Corsa Competizione community.
Having finished third in last year's series, Kieran Prendergast comes into the opening round as perhaps the driver to beat, especially as he now has a mighty name behind him. A star of last year's races in his privately entered Honda, he now flies the flag for Brabham Esports.
Marco Jonkers (West Competition Mercedes-AMG), Leo Boulay (Race eSport Team Mercedes-AMG), Nils Klinkmüller (Mercedes-AMG Team Unicorns of Love) and Valentin Barrier (YAS Heat Esports Ferrari) all return from last season's field.
They will be joined by a host of rising talents such as Niklas Ahrnke (Team ONE.FF Porsche), Jack Alexander and Darren King (both Jean Alesi Esports, Honda and Lamborghini, respectively), Dario Iemmulo (VS Racing by Ballas Lamborghini), Vojtech Fiala (Williams Esports Fanatec Porsche) and Leon Hoppe (Grid Finder Racing Bentley).
The race night begins with two free practice sessions from 19:30CET, ahead of qualifying at 20:35 and the race at 21:00. The race will be streamed live via the GT World YouTube channel.
Reports and results will be published on the SRO Esports website.