• Maximum real-world teams' championship points for Garage 59 and Beechdean AMR
• Qualifying Result | Race Result | Championship standings
James Baldwin won today's Fanatec Esports GT Pro Series race at a canter to bank maximum Silver Cup teams' championship points for Garage 59, while Nicki Thiim finished second on the road at Spa-Francorchamps and earned a full complement of Pro points for Beechdean AMR.
As a highly accomplished esports racer there was no shortage of pressure on Baldwin, who is making his real-world TotalEnergies 24 Hours of Spa debut this weekend in the #159 McLaren. It didn't show, however, as the British driver took outright pole and ran away from the field to triumph by 15 seconds from Aston Martin factory ace Thiim.
The Dane was a comfortable winner in the Pro class, beating fellow countryman Nicklas Nielsen (#51 Iron Lynx Ferrari) by 18 seconds. Luca Ghiotto finished fourth in the #12 Audi Sport Team Tresor entry to complete the Pro podium, while Alex Aka (#99 Attempto Racing Audi) and Lorenzo Patrese (#11 Tresor by Car Collection Audi) rounded out the top-three Silvers.

BALDWIN SHOWS HIS CLASS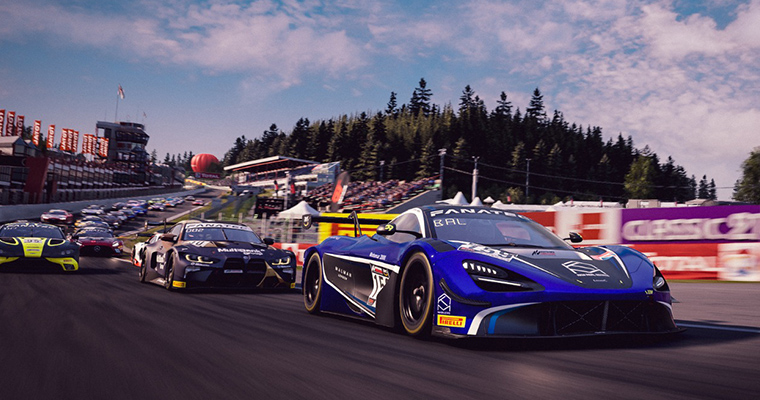 Qualifying one second quicker than the rest suggested this would be a one-sided contest. But although Baldwin broke clear of Thiim, who started third and passed Max Hesse on lap one, The World's Fastest Gamer and reigning Mobileye GT World Challenge Europe Esports champion was either unwilling or unable to establish a sizeable advantage before the pit window opened after 25 minutes.
But great credit must also go to Thiim who on any other day would have claimed a comfortable overall, as well as class, victory. The Dane didn't put a foot wrong but had dropped 15 seconds behind by the finish, underlining Baldwin's superior sim experience.
The fight for the final overall podium spot was far more intense and changed several times throughout the opening stint.
Hesse went backwards after starting second, first being passed by Thiim before Nielsen, Ghiotto and Daniel Morad worked their way through in short order. Paul Ricard winner Tommaso Mosca was also on course to pass ROWE's BMW but ended up in the inside wall at Blanchimont while attempting to go down the inside.
Moments later Ghiotto successfully divebombed Nielsen at the Bus Stop to take third. However, the Iron Lynx driver was content to track the R8's movements thereafter thanks to a five-second penalty heading Ghiotto's way for an earlier altercation with Mosca.
Sure enough, the Ferrari and Audi swapped places during the pitstops and continued to run three-four thereafter.
There was also no change directly behind where Hesse regrouped to finish ahead of Aka who nevertheless collected his third Silver class podium in as many races. The German has now added 13 of a maximum 15 esports points to Attempto's real-world teams' total.
Dries Vanthoor was on course for seventh overall, after passing Lorenzo Patrese with 10 minutes remaining, until Team WRT's Audi ran out of fuel on the final lap. He was still classified fifth in Pro, however, which earned the Belgian a single point on home soil.
Patrese completed the Silver podium and re-took seventh overall, while Jannes Fittje and Morad – who dropped from fifth to ninth following a five-second penalty and his decision to repair damage – completed the Silver class points scorers.
Fanatec Esports GT Pro Series continues at Hockenheim on September 2-4.